Cacao, Cacao! Hawaii's Lively Chocolate Farming Industry
Exclusive to Hawaii from the rest of the United States, cacao, the unprocessed form of chocolate has the advantage to flourish due to Hawaii's humid and tropical conditions.
Chocolate farming began its popularity in Hawaii in the past 20 years and there are currently 100 planted acres of cacao spanned out among the Hawaiian Islands.
Madre Chocolate is known for being Oahu's first bean to bar chocolate making company and the most awarded in Hawaii, having won 23 Hawaiian, national, and international chocolate awards.
The co-founders of Madre Chocolate are Nat Bletter and Dave Elliott. With Bletter's background of a Ph.D. in Ethnobotany, he has documented and researched different plants and he currently applies his experience to making chocolate as a chocolate "flavor meister." Elliott has more than fifteen years of experience working on rural development and environmental justice issues in cacao growing regions and now serves as the Chocolate Production Manager.
When asked about why they chose to make their chocolate vegan and dairy-free, Bletter responded, "I am mostly vegan myself…it was kind of a natural thing." Bletter further explains that it "highlights the flavor of the chocolate more strongly if you're not watering [the chocolate] down with milk."
Madre Chocolate practices sustainability with less consumption of resources and energy in processing the chocolate, along with their recycled packaging and eco-friendly delivery methods. They purchase raw beans directly from local farmers and organic farm cooperatives in Central America and work closely with the farmers to bring the chocolate to its delicious form with bursting flavors.
Bletter shares that among their customers, the most popular chocolate flavor is the Coconut Milk Bar, which has won three awards. While the most famous is the Triple Cacao Bar, which has won nine awards for its uniqueness of being the only cacao bar in the world having three flavors and textures all from the cacao.
As a co-founder of a business, Bletter advises students interested in entrepreneurship that the subject of the business "definitely has to be something that they are very passionate about," and it should "fulfill a unique hole in the market."
About the Writer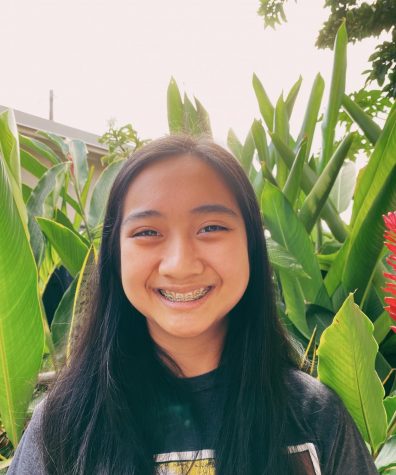 Maya Tabije, Reporter
EMAIL:maya.tabije@imua.ksbe.edu
Aloha, my name is Maya Kealohalani Tabije and I am from Honolulu. I am a senior and this is my second year on the Ka Mōʻī staff. I love all things vegan, vintage, photography, and boba-related! Next year, I plan on studying geography in college. I would love to travel the world when I'm older and become a fluent Spanish speaker. Random fact about me: I believe cabbage and cacao are the best plants to ever exist.