Students Set New Record at the October ASKS Blood Drive
After two days of students donating blood in their holiday attire and Halloween costumes this past spirit week, the October Associated Students of Kamehameha Schools (ASKS) blood drive turned out to be a record-setting one.
ASKS partners with Blood Bank of Hawai'i for their semi-annual blood drive. ASKS members who headed the blood drive, Chara Kekona and Honu Nichols, share that this was the first time they asked the blood bank for 30 more slots after students quickly filled the 180 slots available during sign ups.
Along with that, a new record of 84 pints was set on the first day of the blood drive, the most pints our school has ever donated in a day.
Kekona and Nichols were also happy that a total of 152 donors were able to donate. Each donor can save three lives, so a total of 456 lives could be saved with the amount of donations. Out of the 152 donors, there were also 115 donors who donated blood with Blood Bank of Hawai'i for the first time. "I'm so proud that our students could come together as a community to do that, especially those who have never donated before," said Kekona.
Looking ahead, ASKS is excited for their next blood drive in April after seeing the willingness of students to donate this past blood drive. "I think it's exciting for people our age to know that they can help people not only in the state, but nationally and internationally as well, just by donating blood. Everyone has blood, and you can give blood for free," said Kekona.
About the Writer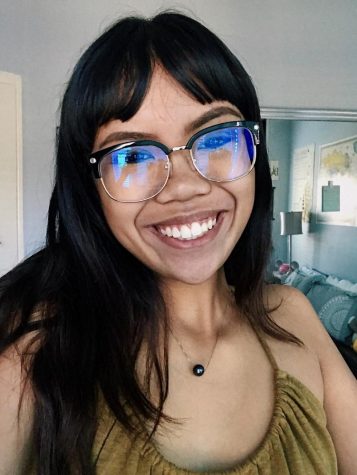 Catherine Jara, Staff Reporter
Aloha! My name is Catherine Jara, I'm a senior, and this is my first year on the Ka Mō'ī staff. Last year, I was the club section editor on the Ka Na'i Aupuni staff, but I switched over to newspaper because I wanted to step outside of my comfort zone and explore more of my writing skills. However, yearbook gave me a lot of good design and communication skills, so I have a unique experience with publications.
Currently, my goal is to major in International Relations, because a program I went to this past summer sparked my passion for culture and global studies. Although I'm not planning to major in Journalism, I feel like the skills I gain from newspaper, such as being able to conduct an interview and strategically communicate my ideas, will be useful for the direction I want to go in. I'm also involved in National Honors Society, KEY Club, and Dog & Cat Huggers.