IUCN in a Nutshell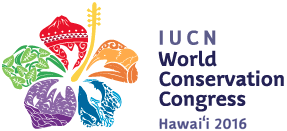 One-hundred and sixty-one countries gathered at the Hawai'i Conventional Center on September first through the tenth for the International Union for Conservation of Nature (IUCN). There, they discussed the challenges the world is facing as a whole and came up with more conservative ways to address those problems. The IUCN is composed of both government and civil society organizations. At the event, they also wanted to celebrate achievements of the United States and Hawai'i toward a more sustainable economy and way of living.
"IUCN is a membership union uniquely composed of both government and civil society organizations. It provides public, private and non-government organizations with the knowledge and tools that enable human progress, economic development and nature conservation to take place together," says the IUCN Committee.
The Mālama Honua class, along with other selected classes, were given the opportunity to attend the conference on September 6, 2016. There they talked about ways in which the younger generation of Hawai'i can make a difference and inspire others. Classes that attended the conference were given the task to come up with as many solutions as possible in which they could solve some of the world largest issues. After voting on the top three ideas, they later had to come up ways in which they could transform their ideas into a reality. Their next task was to build prototypes of their ideas and share them with the rest of the group.
"I learned that 60% of the world's ecosystem services have been degraded over the past 50 years. Nature is a system, we need it to survive," Gabby Smythe, Mālama Honua student.
For many students, the IUCN conference taught them that there are many organizations in the world that used their businesses to help the environment.
"Over the event I learned a lot about the different kinds of organizations that deal with conservation in the world. One lady from Britain talked about how businesses can actually relate to conservation somehow and not just money," says Christopher Asano, Mālama Honua student.
This conference also showed what the United States, along with other countries all over the world, can take away from Hawai'i's goal for a sustainable future.
"The U.S state of Hawaiʻi is a group of islands situated some 3,200 kilometers southwest of the North American mainland, with a population of almost 1.5 million. As the heart of one of the richest cultural and ecological regions, Hawaiʻi merges the economies and cultures east and west," WWC National Host Committee for Hawaiʻi.
Overall, the conference was very eye opening for everyone who attended. It was an opportunity for countries all over the world to come together to discuss global issues, henceforth sharing their own perspectives to solving each individual problem.