Lifesaver Lumʻs Column: The Health Risks of Vaping
Joby Lum, Website/Technology Director
March 11, 2020
You huff and you puff the vape out of your lungs. Vaping has become popular among youths in the past decade, but it has been causing health concerns.
In a study released by the Yale Medical program, "over 3.6 million middle and high school students currently use e-cigarettes". However, that number is only a few students who have been caught or admitted to vaping.
The amount of students vaping is a huge concern across the nation. In Kamehameha Schools alone, the odds of you finding a person vaping is significant, especially in the bathrooms across campus. Despite stricter punishments for students caught vaping, it has not deterred students from vaping.
The medical side effects of vaping are severe. The Center for Disease Control (CDC) reported that "Federal and state officials have reported hundreds of total possible cases of pulmonary disease and several deaths that may be related to vaping. Patients' symptoms ranged from cough, chest pain and shortness of breath to fatigue, vomiting, diarrhea, and fever."
In an article written by the LA Times, there have been 33 vaping related deaths with 1,479 facing a type of sickness induced by vaping. These numbers are small compared to the millions who use e-cigarettes, but a study from John Hopkins University found that teens using e-cigarettes will later switch to cigarettes and other tobacco products. Regular cigarettes kill an estimated 1,300 smokers every day.
The quote that many students like to live by is "I'm here for a good time, not a long time." That may be your personal quote to live by, but remember the people in your life. Remember your parents, your friends, your significant others, your grandparents, and the others in your life. Remember them before you continue to huff and puff.
If you are currently addicted to the nicotine in e-cigarettes, you can seek help from your vice principal. Kamehameha has set up a system that allows students to come to administration and get counseling, but that offer is only extended once. Another option is to seek counseling from outside of school. The school does offer a 24-hour Hiʻikua hotline for students to call if they want to report something anonymously or help with alcohol or drug addiction. The hotline number is 1-844-284- 2640
About the Writer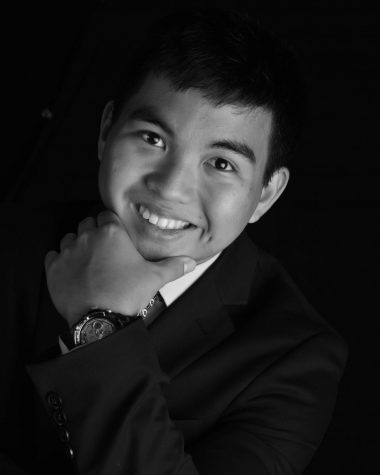 Joby Lum, Website/Tech Director
EMAIL: joby.lum@imua.ksbe.edu
My name is Joby Lum, some know me as Mateo and I am a senior and a first-year member of Ka Moi. I came to the hill during my Freshmen year. I have many interests that range from photography to politics and medicine. I am the president of the KS Lifesavers Club and the KS Aviation Club. My dream is to become a paramedic and be able to serve those in my community. I chose to join Ka Moi because I love to write and be able to show the other side of a story. I feel that Ka Moi will help me become a stronger writer and expose me to the world of journalism.