Protests for Aloha ʻĀina to Take Place at Unity March this Weekend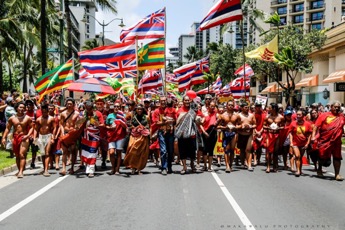 The Aloha ʻĀina Unity March, happening on Saturday, Oct. 5, is meant to empower Hawaiians and bring everyone together.
The state government has issued permits for another "Aloha ʻĀina" march to take place, starting at Ala Moana Beach Park and stemming all the way to Queen Kapiʻolani Park. The march starts at 2 pm and goes on until around 5:30 pm, with thousands of participants expected to attend.
The purpose of this march is to inspire Native Hawaiians to speak out against the construction of TMT, as well as other projects that diminish the Native Hawaiian culture. The theme for this unity march is "Kokahi", also known as "Together We Rise". This march is an urge to Native Hawaiians to get more involved in the community and make their voices heard.
This march is looking for individuals and groups that exhibit power through being united by Hawaiian issues and traditions.  
The last Aloha ʻĀina Unity March took place in July, with multitudes of supporters flooding the streets of Waikiki, holding up Hawaiian flags and signs. The march organizers hope to extend their number of participants by even more this time.
Kumu Hina Wong, a Native Hawaiian activist said, "It is about time for my people to set leadership." These marches hope to continue in the future in order to collect even more support for Hawaiian unity and involvement.
Anyone who wants to have their voice be heard in response to TMT or other projects happening in the community is welcomed to join and be a part of this unity march.