Classic Chocolate Mug Cake Recipe for Winter
Mug cakes are an easy and simple treat to whip up in a matter of several minutes. Speaking of whipping up, whipped cream acts as a good topping for this dessert. So if you are craving a cake but don't want to spend an hour in preparation and baking time, look no further! Mug cakes can easily be made by mixing the ingredients in a mug or bowl, then popping it in the microwave. The winter season in Hawaii tends to be rainy, so it is nice to have a warm mug cake to keep you cozy. Mug cakes are great to enjoy while watching a movie.
You can customize your concoction with protein powders for some extra protein, or any other additional things like coffee or almond butter to your personal liking. This recipe is vegan, having egg and milk substitutes. You can use either cacao or cocoa powder- the difference is that cacao is more bitter but has more nutritional benefit
Ingredients (1 serving)
4 tbsp flour
1 tbsp sugar
1 tbsp cacao or cocoa
¼ tsp baking powder
1 tsp oil
4 tbsp non-dairy milk
Non-dairy chocolate chips to your liking
Instructions
Simply mix all of your dry ingredients thoroughly in a mug or a microwavable bowl, then the wet ingredients.
Mix in the chocolate chips and add more on the top.
Microwave it for 1 minute or less for a gooey consistency, or up to 1 minute and 30 seconds for a more firm hold.
About the Contributor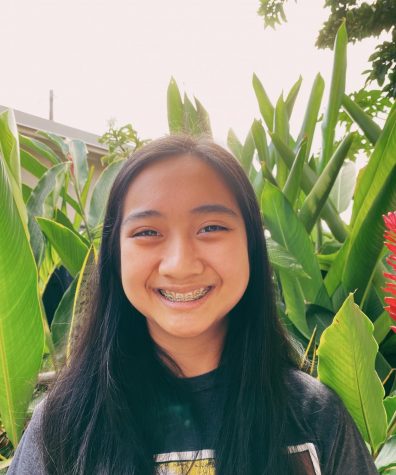 Maya Tabije, Reporter
EMAIL:maya.tabije@imua.ksbe.edu
Aloha, my name is Maya Kealohalani Tabije and I am from Honolulu. I am a senior and this is my second year on the Ka Mōʻī staff. I love all things vegan, vintage, photography, and boba-related! Next year, I plan on studying geography in college. I would love to travel the world when I'm older and become a fluent Spanish speaker. Random fact about me: I believe cabbage and cacao are the best plants to ever exist.