UH Mānoa's "Auʻa ʻIa: Holding On" Premieres
University of Hawaiʻi, Mānoa has recently introduced the production, ʻAuʻa Iʻa: Holding On, to the stage in the last week of September. 
Written by Tammy Hailiʻōpua Baker, the play resurfaces deeply-rooted issues within Hawaiian history and connects them to problems from today: from the grounds of the ʻIolani Palace to the protests for Mauna Kea. Baker's main characters, four Hawaiian students, each undergo individual journeys that empower them to understand their Hawaiian identity. 
"Like Hawaiians as people, the haumāna have different degrees of language and cultural fluency," Baker said in the director's note. "But each haumāna becomes certain that the kūpuna stood for Aloha ʻĀina, and that this offers inspiration and guidance as we seek to maintain our identity as Kānaka Maoli today."
Kyla Aken, a senior at Kamehameha who has seen the play, said ʻAuʻa Iʻa was exceptional. "ʻAuʻa ʻIa is a beautiful, amazing, and unforgettable play that has gifted me the opportunity of watching my culture's history be brought to life." Aken said.
More than half of the play is in Hawaiian; however, audience members of ʻAuʻa Iʻa can enjoy the production without knowing the language. Combined with the acting, ensemble performances, and the music, the play unquestionably depicts the struggles the characters encounter.
Regarding the use of ʻōlelo Hawaiʻi in the production, Aken said she didn't have an issue understanding the play. "I only know the basics of speaking ʻōlelo Hawaiʻi," said Aken. "I understood the general idea of the acts and caught on to the jokes."
"I absolutely loved the fact that the play was mostly in ʻōlelo Hawaiʻi! It made my experience with the production even better," Aken said. "It was a great way to share the Hawaiian history and present tribulations that the Hawaiians are currently facing."
About the Contributor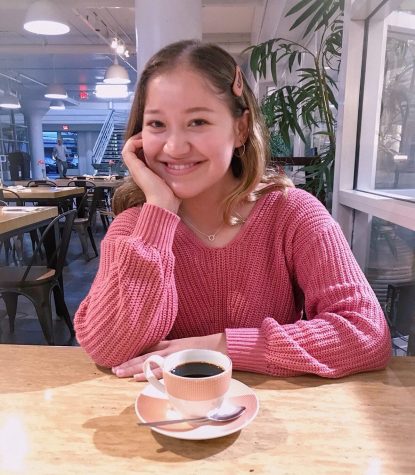 Gisele Bisch, Assisting Editor
EMAIL: gisele.bisch@imua.ksbe.edu
Aloha! My name is Gisele Bisch, and I'm from the North Shore. Now a senior this year, I am delighted to say that this is my second year of being a staff member in Ka Mō'ī! I have a profound interest in sustainability, nutrition, drawing and painting, and social justice. As a staff member of Ka Mō'ī, I am fortunate to be able to utilize my student-voice and participate in discussions regarding these and other issues.