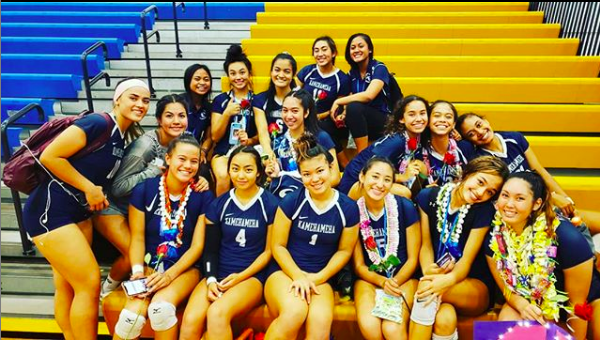 Courtesy of Kamehameha Schools Girls Volleyball Team
KS Athletes Earn All-America Accolades
Yesterday's announcement of the 2019 Under Armour Girls High School All-America Volleyball Teams garnered more attention for the state championship volleyball team.
Seniors Bryanne Soares, Keonilei Akana, and Tara Tesa made the list which recognized the top senior volleyball players throughout the U.S. Soares, who is committed to Oral Roberts University, made the All-American second team. Akana, a University of Southern California commit and De Sa who intends to play for the University of California, both made the Honorable Mention Team.
All players were recommended by their head coaches and were evaluated according to their performances throughout the volleyball season. Warrior Head Coach Chris Blake, who guided the warriors to their 22nd state championship this year, selected the KS All-American athletes for consideration of this national honor. Only seniors were eligible for this award. Iolani's Elena Oglivie was recognized as a First Team All-American.