Kamehameha Schools Busses Packed with Students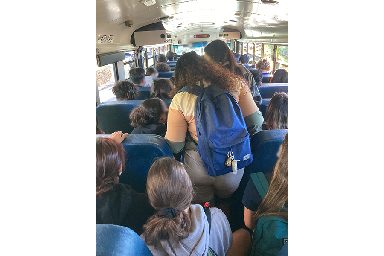 With school returning to in-person learning, busses are running at full capacity with students facing various challenges.
As Kamehameha students return to school, within the first few weeks, bus riders express concern over seating and contact tracing. Many bus riders were promised more busses to separate elementary and middle schoolers from high schoolers, yet as weeks progressed many students pack into fewer busses than promised.
For places like Kapolei and Waimanalo, each promised more than one bus, afternoon rides leave high schoolers at Konia running to the bus to get seats. While full capacity entails every seat having two people, many students have seen or been sat three to a seat. Furthermore, many busses for different areas are combined if space allows, and even if it doesn't. For places like Kailua and Waimanalo, if one bus isn't taking elementary to high school, the two routes are combined with overflow kids needing to catch a minibus later.
Bus drivers follow rules posted on how students cannot sit three to a seat from Paki to Konia, yet in the mornings and afternoons, many country bus riders see high schoolers and elementary kids sit as such. Even during the day filled busses, especially from Bishop to Konia, cause students to be late to classes if they are not fast enough from classes.
With limited busses running, many shuttles during the school day get filled within the first few minutes of the bell ringing, leaving students standing outside of Bishop Hall waiting for Paki shuttles to come and pick them up. However, if the three shuttles from Paki are filled, students must wait for the bus from Konia to empty out at Paki, then take them up to Konia.