Field Trip Gone Virtual: Heʻeia Fishpond
On Nov. 6, a virtual field trip to Pae Pae ʻO Heʻeia Fishpond was held in adapting to a virtual learning environment. This was the second Virtual Science Chat event: in which guest speakers from the community share their experiences on how they are protecting our island resources.
Keliʻi Kotubetey ('96) co-founder, assistant executive director, and Aina Momona coordinator of Pae Pae ʻO Heʻeia gave the participants a virtual tour of the fishpond and taught about the fishpond's history and the fishpond today.
During the field trip, students took take kilo (observations) and gave questions about Heʻeia Fishpond. Some highlights that students learned were that most of the fish raised in Heʻeia Fishpond are herbivores, kilo skills are critical to be efficient in work, and murky water is an indicator of an abundance of nutrients of phytoplankton and zooplankton in the water.
One of the current targets at Heʻeia is to clear the mangrove. Keli'i said, "the greenery touching the shoreline is where the restoration is focused on."
The experience is definitely different from the average school field trip because of the barriers to learning through a screen, but it was a great educational experience for all.
Similarly, a UH Manoa 'ōlelo Hawai'i (Hawaiian language) immersion course, Mauiakama, had a virtual field trip to Molokaʻi where students learned about preserving limu ʻeleʻele.
Furthermore, there are many virtual field trips and experiences available. Museums are offering virtual interactive tours including The Louvre and The Vatican Museum on their respective websites. Relating to Hawaii, the National Park Service has a live cam of Haleakalā Crater, Halemaʻumaʻu Crater, and Mauna Loa to observe from home.
Google Arts & Culture has collections from all over the world available. Explore different art mediums, discover artists, and find inspiration. In the "Places" category, the art pieces show the history and culture of the countries. The home page of the site has a few interactive experiences to try: a VR (virtual reality) video "Enjoy a Cinematic Experience in 360°," and an Art Filter "Turn Yourself Into the ʻGirl With a Pearl Earring.'"
About the Writer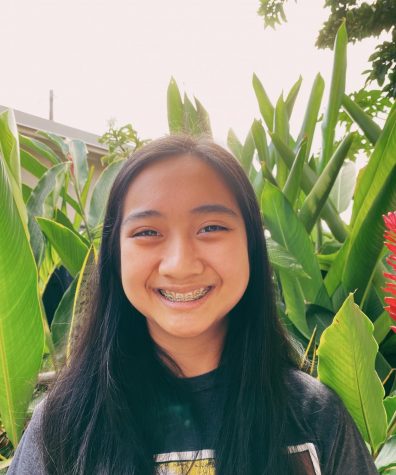 Maya Tabije, Reporter
EMAIL:maya.tabije@imua.ksbe.edu
Aloha, my name is Maya Kealohalani Tabije and I am from Honolulu. I am a senior and this is my second year on the Ka Mōʻī staff. I love all things vegan, vintage, photography, and boba-related! Next year, I plan on studying geography in college. I would love to travel the world when I'm older and become a fluent Spanish speaker. Random fact about me: I believe cabbage and cacao are the best plants to ever exist.