Effects the Coronavirus Has on Boarding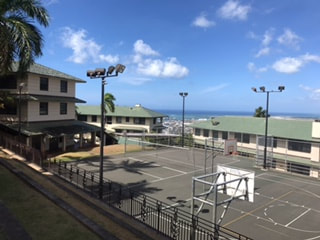 With COVID-19 in Hawai'i, there is a concern with the boarders. Studentʻs living in close proximity practically 24/7. The dorm advisors and staff are working on the fly to make sure each student stays safe.
Not much in boarding has changed concerning day to day life. Dorm advisors are just more aware of wiping down door handles and reminding students to stay hygienic. Posters are plastered on the halls of each dormitory.
The main concern is with sending the students home. "Prepare for the worst but hope for the best," said Pilialohamauloa Cashman, a dorm advisor in Kekauluohi dormitory. Cashman continued to say, "The biggest vulnerability for the boarders is those who come onto campus. The dorms are a controlled environment so we should not worry since there are no cases within our school at the moment,"
A bigger concern is the health of the mainland boarders. For this rare circumstance the mainlanderʻs flights home are being paid for, round trip. The main problem, of course, is the fact that these boarders are flying home and the school cannot control or regulate the coronavirus in their state. Alika Benson is a boarder from Seattle, a current hotspot for the coronavirus, he is still being flown home but he has many questions.
"We are concerned for the mainland boarders, we [the dorm advisors] have talked about it a lot, like if you should even go home or not. Especially for you mainland kids, how safe is it for you to travel? We donʻt know where the planes have been or who has been on those seats," Cashmen said.
"At this point, we are less concerned with our own health and more worried about the kids, every student is a priority so instead of thinking about me getting sick, I do everything to prevent the kids from getting sick." Lavonne Awong, another dorm advisor in Kekauluohi dormitory, said.