Greta Thunberg Named Timeʻs Magazine Person of the Year for 2019, What Started the Journey?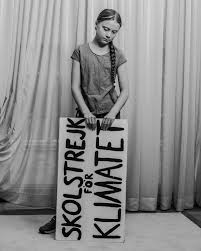 Greta Thunberg, the Swedish teen climate activist, won Time magazineʻs Person of the Year in 2019. After the largest climate demonstration in history on Sept. 20, 2019, Thunberg has become an icon in the battle against climate change.
Thunberg's journey in being a climate change activist started when she was 15. She would protest alone during school hours outside the Swedish parliament. She started a momentum in the youth of today to "act on behalf of the planet." Thunberg is the youngest choice that has been named Timeʻs Magazine Person of the Year.
When Thunberg demanded change people began to realize the generational shift, they realized that todayʻs youth demand change because they do not want to be stuck with the mistakes of the generations before them. "She is good, I am happy that someone our age is getting recognized and pushing forward a generation of change," Keali'i Rapozo, a sophomore in Lunalilo dormitory, said when asked about Greta Thunbergʻs influence.
Greta Thunberg also has Asperger's syndrome, Asperger syndrome is a developmental disorder characterized by difficulties in social interaction and nonverbal communication. It also includes restricted and repetitive patterns of behavior and interests.
To Greta Thunberg, it is her superpower, part of one in her tweets in October said, "I have Asperger's and that means I'm sometimes a bit different from the norm. And — given the right circumstances — being different is a superpower. #aspiepower." She isnʻt afraid to speak about it and has emerged in a role model. Her influence has educated people about the syndrome and proves it doesnʻt hold you back.
She has brought climate issues into the light, issues that people may have ignored or said were fake. The world's temperature has risen since the Industrial Revolution and will hit the 1.5°C mark (34.7ºF) that is how much the temperature has increased. Every decade it increases by about 0.2ºC since 1950. Scientists warn this temperature increase will expose about 350 million more people to drought and push roughly 120 million people into extreme poverty by 2030, thatʻs 10 years away.
How has Greta Thunberg been able to make such a big impact in only 2 years? She has inspired millions of people across the globe, she has spoken to the U.N. and called them out, she met with the pope, she travels the globe to lead this worldwide movement, and she trudges through the hate.
Greta Thunberg just turned 17 on Jan. 3, 2020, and just a few days after that she was called out by a 72-year-old rocker called Meat Loaf. He went on to say that Greta Thunberg was brainwashed into thinking that climate change was real when it really wasnʻt. He also says that she has been forced to believe that what she says is true. Greta Thunberg replied with the facts, showing a graph that represents the importance of decreasing greenhouse gas emissions.