Kamehameha Schools' CEO & Trustee Release Video Message to Kamehameha 'Ohana
In light of several lawsuits filed against Kamehameha Schools on reports of repeated sexual abuse by psychiatrist Robert Browne, CEO Jack Wong and Chairman of the Board of Trustees Micah Kāne have recorded a video message to discuss the pressing matter.
In addition to a letter sent on January 2nd to Kamehameha Schools faculty, staff, parents, and students, Wong and Kāne further reitterate their stance on the incident and define the steps they are taking to bring justice to the victims and families affected.
Kāne states in his opening message that, "We are here today to acknowledge our shortcomings, share our plans to do what is pono, to bring closure so that real healing can begin." On behalf of the Board of Trusttes, Kāne goes on to say that they have met with the vicitims and their families and that, "as trustees, we're angry that they were harmed by someone trusted by our community. We came away from these conversations knowing we'd do everything possible to make things right."
Wong supports Kāne's statements, saying that, "We will grow from this. We will continue to challenge ourselves to improve our programs." He ensures that, "Our collective promise to you is that safety will always be our highest priority. Today, Kamehameha is a safe place for our keiki to learn, grow, and become the leaders that Ke Aliʻi Pauahi envisioned and we'll never stop improving the ways that we carry out our kuleana."
Meanwhile, cases head to court this upcoming summer for the 34 victims affected by Browne's sexual assaults.
About the Writer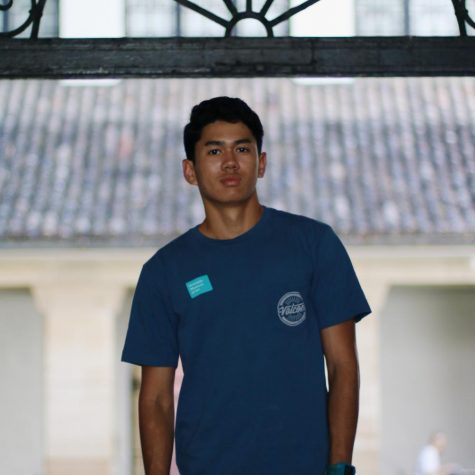 JP Newmann, Staff Reporter
Hi, my name is JP Newmann, I'm a senior at Kamehameha and I'm from Kailua, Oʻahu. This is my first year as a staff reporter for Ka Mōʻī, and I decided to join in my senior year because I've always had a passion for writing and an interest in current events (hence my curiosity in pursuing journalism and in joining the school newspaper). Aside from my academics, I play Varsity Golf for the school team, and on weekends I really enjoy spending some time in the ocean. My aspirations for this year in Ka Mōʻī is to give the reader a high-quality school newspaper and to write meaningful stories that interest the students and faculty of Kamehameha Kapālama.