Junior AP English Class Takes a Stand for the Environment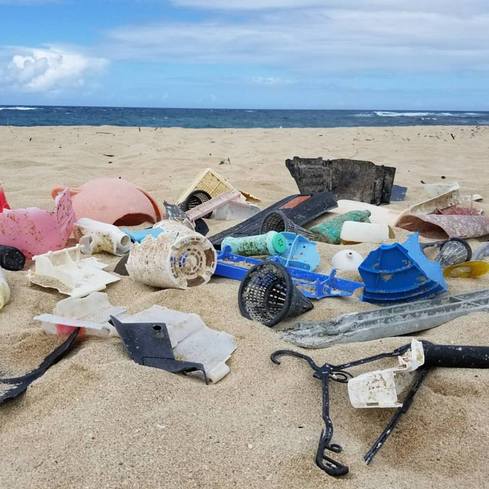 Earth. The third planet from the sun, the largest of all terrestrial planets, formed around4.54 billion years ago. It's the planet that is home to 8.7 million animal species, 290, 000 plant species, and of course, humans. Yet, we continue to harm the environment, damaging the planet we'd be nothing without.
Ms. Fontaine'sjunior AP EnglishLanguage and Composition class is taking action against this problem. Their second semester will involve completing an environmental-friendly project that will put the tools they've been working on since the beginning of this year to practice. This is the first time Ms. Fontaine has ever given this specific assignment to her students. According to the project information sheet, the goals of this assignment are to, "Do something good in the name of the 'āina, honua, lāhui, larger community, humanity, and yourself. Make a difference, make change." The keywords to remember are, "aloha 'āina, sustainability, environment, climate change." Along the journey of this project, the students will keep a portfolio that documents their process, discoveries, and transformation. The portfolio consists of five major parts: Mission Goals, Research, Chronicle of Experience, Products, and the Final Reflection. The assignment will also help to exercise and develop the E Ola! Learner Outcomes, which are used throughout the entire Kamehameha Kapālama campus.
What exactly can a few classes of students do to save the dying environment? Don't be quick to underestimate, these AP English students have quality ideas, intuition, and the skills to make a difference. A few project examples include writing a book (or eBook) to be published, upcycling, composting and organic gardening, hosting a sustainability fair, or creating products (such as hats) from old fabric that would otherwise be wasted."If I was going to completely eliminate plastic from my lifestyle, it wouldn't take a few weeks. It would take months, maybe even years." said Ms. Fontaine when asked why students receive an entire semester for this journey. "Change takes time. It's a process."
The project is not aimed to completely save the planet on its own, as that would be impossible. Its purpose is to inspire effective change through the work of KamehamehaKapālama's Junior AP English students. They are the beginning of transformation, and the difference they make together will prove there is hope for the Earth and its environment.