Kamehameha Science Students Lead SACNAS Delegates in The Field
Students in Kumu Robert Hutchinsonʻs AP Biology and Environmental Science classes had the opportunity to host delegates of SACNAS on the windward side of Oʻahu.
75 members of SACNAS (Society for the Advancement of Chicano/Hispanic Native Americans in Science) visited various cultural sites in the Koʻolau Poko region, the tour demonstrating how STEM can be taught through a Hawaiian cultural lens. The huakaʻi was made possible with the help of many KS staff members and students, as well as partners from Windward Community College, the Hawaiʻi Institute of Marine Biology and other organizations.
Participating students included: Zoe Bell, Anna Grondolsky, Kāʻeo Kekumano, Dakota Kaupu, Camille Slagle, Dane Kaulukou-Chang, Amanda Colburn, Cruse Aea, Mealii Kalani, Isaiah Lorenzo, Preston Ponteras, Zach Lorenzo, Azure Nikora, Kaitlyn Saelua, Joslyn Kawelo, Madison Heen, Meagan Mahikoa, and Isaac Swain.
SACNAS members, guided by Kamehameha students and staff, visited 3 locations on Oahuʻs windward side, Nā Pōhaku o Hauwahine, Waikalua Loko and Papahana Kuaola. Students were the leaders of various activities at these locations such as water quality assessment, plant species identification, plankton identification, and nutrient analysis. Senior Kāʻeo Kekumano said "At SACNAS, I was a selected presenter to share my research on the anti-cancer effects of sea cucumber extracts with other stem high school students from across Oahu. During the huakaʻi, I helped the delegates look for native Hawaiian plants an identify phytoplankton from the Waikalua Loko Fishpond."
The main goal of this tour was to relate Hawaiian cultural practices and ideas into environmental STEM, allowing for the members of this organization to see how they can correlate. Senior Dane Kaulukou-Chang said, "Science has played a vital role in the Hawaiian culture for centuries and I hope the delegates from the continent recognized that as their biggest takeaway from the entire day."
Not only did students get the opportunity to participate in this activity, but they were also able to create connections with delegates. Senior Camille Slagel said "It was amazing to be surrounded by so many other people who were genuinely interested to learn about Hawaiʻi's unique biosphere and its practical application to any scientific field of study. I had the opportunity to talk to a few SACNAS participants who attend some of the colleges I'm interested in, and their enthusiasm to hear about my goals for the future was remarkably motivational. SACNAS is an experience that'll have a lasting impact on me – I realized that I can use my love of science to gain a deeper appreciation of my culture and where I come from."
About the Writer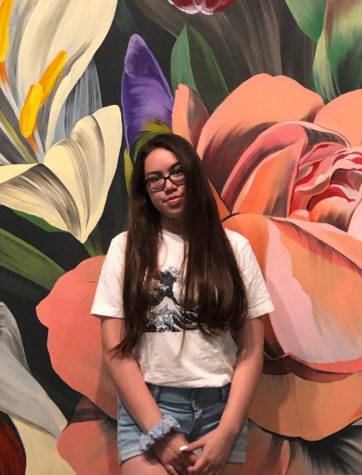 Kiersty McKee, Reporter
EMAIL: kiersty.mckee@imua.ksbe.edu
Aloha! My name is Kiersty McKee and I am from Papakōlea, Oʻahu. I am currently a senior, and I began my journey at Kamehameha in Kindergarten. I am a member of the Concert Glee Club, the senior class board, as well as a few clubs on campus. This is my first year writing for Ka Mo'i, and I joined to determine my interests going into college to possibly decide on a major and career path.