Kumu ʻAuliʻi Hirahara Recounts Her Experiences on The Mauna
In the early afternoon on July 17, ʻAuliʻi Hirahara, known better as Kumu Hirahara, received a text from her aunt Nohea Kalima Chun. It read something along the lines of, "I think I'm going to be next." Five minutes later, Hirahara was staring at photos of her aunt being carried away by police. She was amongst the 38 kūpuna arrested while protecting Mauna Kea.
When Governor David Ige and the Thirty Meter Telescope International Observatory (TIO) announced that they would begin construction of TMT the week of July 15, 2019, a group of kūpuna and other Kia'i headed straight for Saddle Road to prevent construction vehicles from getting atop the mountain. Kumu Hirahara's aunt was amongst them.
Four days after the protectors first got to Saddle Road, police arrested 38 kūpuna who were blocking vehicles from going up Mauna Kea Access Road.
"I was afraid for her," said Hirahara as she described the moments after receiving the message, "I had to help protect her and support her." Hirahara booked a flight as soon as she received the message from her aunt, "I texted my cousin 'we're coming tonight'."
Hirahara landed on Hawaiʻi island and got to Saddle Road at 11:30 pm that night, "When I arrived there, everything was all locked up. It was dark and no one was out since everyone was sleeping." As soon as light broke the next morning, she and her family found her aunt and got ready for morning protocol.
Hirahara has had the privilege to go to Mauna Kea many times since her first visit. "My cousin Ikaika Kalama or my aunt Nohea Kalima Chun would call. I would ask, do you need anything? My sister Healiʻi Heine or I would fly over and pick it up for them."
Hirahara continuously praises the organization and safety that Pu'uhuluhulu has. "Safety is their number one concern," she said about the matter. "Even on the fifth day, they were pretty organized." She added, "There's never any sitting around, there's always a job to do, and everyone helps, it's not what the papers say, I really feel it's just like, everyone working together.
One of the most amazing aspects of her experience was getting to work with students at the camp, "To see my old students who have graduated and my students who are currently in school who have decided to go up [to Mauna Kea] to support the kupuna in their endeavors, it filled my heart- my heart was just full."
When asked about the overall environment and energy at the camp, Hirahara described a place that was united in a purpose, "[the protectors] know what they were there for. It wasn't about trying to fight against any entity or person, it was more or less standing up for our kupuna, Mauna Kea."
About the Contributor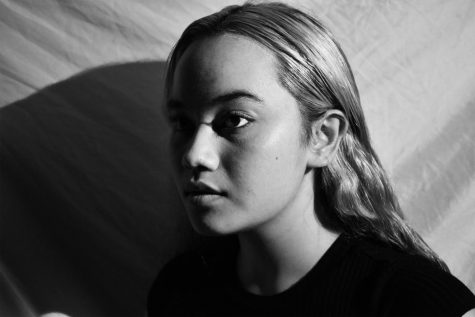 Taylor Cozloff, Editor In Chief
EMAIL: taylor.cozloff@imua.ksbe.edu
Hi! My name is Taylor Cozloff, I'm from Wahiawa and Ahuimanu, I'm a senior, this is my third year on staff, and my second as Editor in Chief. I enjoy traveling, reading, writing, and outrigger canoe paddling. This is sadly my last year on staff, but I will be continuing my life in the journalism world when I study journalism in college and, hopefully, make it my career. I am incredibly passionate about social justice, equality, and the environment, so you'll probably see a myriad of articles about these subjects with my name in the byline. Ka Moi is for the students, by the students, so if you wish to submit an editorial about problems you see in our school, community, or in the world, feel free to email me any time.