Healthy Muffins That'll Brighten Your Day!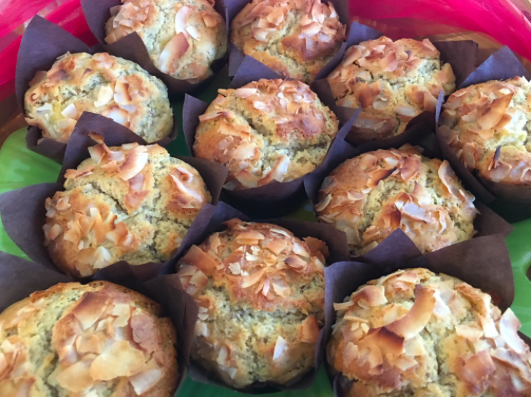 Hang on for a minute...we're trying to find some more stories you might like.
Looking for a tasty and healthy recipe to keep you going? Well if you are, Aunty Malia's Tropical Vegan Muffins are perfect for you! These muffins are filled with vitamins found in various fruits such as bananas, pineapples, and lilikoi that your body needs to stay strong. Not only are these muffins a good alternative to other sugary pastries, but it's a yummy one as well! To enjoy these scrumptious muffins, follow this quick and easy recipe; in a couple of minutes you'll get to enjoy a nice, warm, pan of Aunty Malia's Tropical Vegan Muffins.
Prep Time: 10 min.
Bake Time: 15-20 min.
Serves: 12 muffins
Ingredients:
2 c. gluten-free flour
1/2c sugar
1T baking powder
1/4c shredded coconut
2T flax meal + 2T water (mix)
1/4c vegetable oil
2/3c almond milk
1/3c lilikoi juice
2 bananas
1/2c pineapple
1/2c mac nuts
Directions:
1. Preheat oven to 500 degrees
2. Mix flour, sugar, baking powder and shredded coconut in a small dish
3. Mix the flax meal and water then set aside
4. In a separate bowl, mix the oil and lilikoi juice
5. Add the flax mixture, then stir for 2 min.
6. Slowly add the flour mixture into the flax mixture (combine the bowls)
7. Fold in the bananas, pineapple and mac nuts
8. Fill non-stick muffin pan with mixture
9. Reduce the oven to 400 and bake for 15-17 minutes