Can't Go Wrong with Nick Wong
Website Developer and Aspiring Entrepreneur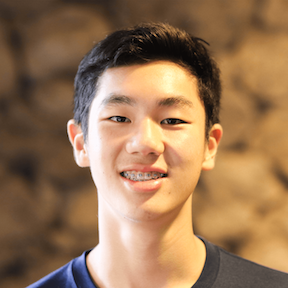 It's two 'o'clock in the morning, and junior Nick Wong is working at his desk, eyes flitting back and forth through yellow-tinted lenses between two computer monitors, a signature red 12-oz can of CocaCola within arm's reach. He's working on updating the website for uAchieve Learning Center (uachievehawaii.com), a tutoring center run by former Kamehameha Schools teacher Andy Chung.
Nick has a vast portfolio (nickwong.io) of websites like uAchieve. KSCTool (hackthehill.xyz) allows students to enter their KSConnect information to find out who else is in their classes before school starts.
Nick's dream is to move to San Francisco and become a successful technology startup entrepreneur, like Darius "Bubs" Monsef, who established a special program called Nalukai Academy that Nick attended last summer.
The pilot ten-day "hacker camp" on the Big Island was a highly selective, all expenses paid trip, and Nick was one of twenty students, out of hundreds of applicants, who were selected to attend and receive free brand-new MacBook Pro laptops and expensive design software to kickstart their careers in technology. The students stayed at Hawaii Pacific Academy (HPA), where they learned about coding and entrepreneurship and spoke with technology pioneers from Facebook and Google.
"Nalukai inspired me and refueled my passion in terms of entrepreneurship, technology, and startup culture–I think that's where I want to head in my future. Nalukai gave me the tools I need to pursue that. It was a very special experience and I met a lot of great people."
When the students were tasked with working together at the end of the camp to create a product to showcase their skills, Nick stepped up everyone's game and spearheaded the creation of a website for Nalukai, which was completed in only three days, despite a power outage that left the campers without WiFi for two days.
"There were a lot of design restraints–barriers that we had to break through to get the project done–but it was a good amount of stress to get us to focus and collaborate, and I'm happy with how the website turned out."
Zion Basque, president of The Kamehameha Coding Club and Nick's rival in the field, said, "Nick Wong over a short period of time has proven himself to be a great competitor in the computer science field. Nick's drive for success is his greatest asset, and in time will prove to make him a great innovator for our future."
When Nick is not on the computer, he's on the volleyball court. He is currently in Anaheim, California playing in the Southern California Volleyball Association Invitational Tournament for Aʻo ā Koa volleyball club.