KS graduate killed in 'hit and run'
Students mourn the loss of former football star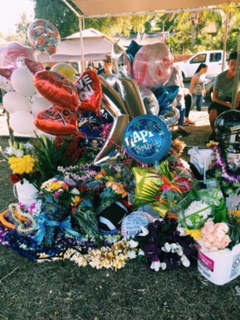 Warriors are forever and Kamehameha lost a fellow warrior on April 24, 2016. Kamehameha students, staff, and alumni said their final good-bye to Kaulana "Lana" Werner as he passed away from a pedestrian accident in Nanakuli outside of his family home. It was around nine 'o clock when Kaulana was hit by a driver, who was allegedly under the influence and speeding near Farrington Highway. Werner died at the scene. This tragedy hit home for not only his family in Nanakuli, but also his family on the hill.
"Kaulana was a brother not only on the field, but off. He would do anything for his mom and dad. When he said he was going to do something, he made sure he was going to do it," said Chris-Jordan Ulufale, a friend and football teammate of Werner. Ulufale was not the only student who saw Werner as a brother, as many more of the football teammates referred to Werner as being a brother and someone who could make you laugh and smile. His love for the game of football was reflected not only in his playing, but in his teammates as well.
" Before waterbreak, Kaulana would give us a motivational speech, and we were all usually irritated by the time he gave us a speech, but it helped out a lot. From what I saw my first year playing football he took on a captain role and was really vocal and set a good example for everyone," said Sundance Solatorio, a friend of Werner's.
"Werner was a motivated football player, who strived in everything he did and he'll always be our #4. His positive attitude and passion was not only shown in athletics, but also in his schooling as some teachers remembered Werner also having a lively spirit when he would walk into class," said Shyanne McCoy, a friend of Werner's.
Werner made a great impact on many students' lives. Friends of Werner saw him as a protector, advice giver, and now a guardian angel.
"Before the accident, Werner attended Sterling University before transferring to University of Hawaii to support his family. Werner wanted to become a pilot and he now has his wings and is flying high. He will forever be a warrior and he will be missed," said Ulufale.