Beauty Pageants Should be Discontinued
Beauty pageants, like the well-known Miss United States founded in 1952, prove to be more damaging than they are rewarding.
While the Miss USA competition awards its finalists with scholarships and money to support contestants' organizations, the decision of who gets those scholarships is superficial. Contestants ranging from 18-28 years of age are judged on various categories including: an interview, on-stage question, talent, evening wear, swim wear, and composite. Looking at this list, it is obvious that physical appearance plays a big role. In fact, according to Miss USA's official website, the scores are weighted 25% for composite, 15% evening wear, 10% swimwear, 30% talent, and 20% for questions. In other words, 50% goes to a contestant's physical appearance, 30% to her ability to twirl a baton, and only 20% to her measure of intellect.
However, the question given is not an accurate representation of their level of intellect, as people focus on how fluent their practiced responses are instead of looking at their authenticity. This feigned confidence in her answers and ability to walk with a straightened spine is all the judges seem to notice.
The official statement of the pageant said, "A confident woman has the power to make real change, starting in her local community with the potential to reach a global audience."
Although the intent of the pageant is to develop confident women, the competition often times results in the opposite. Former Miss USA Nana Meriwether said, "By the time the pageant rolled around, everyone was so tired. It was stressful. It was lonely. Paranoia was running high."
This paranoia causes contestants to break the friendships that they have built in order to secure their title. However, even after winning the competition, Meriwether said, "Being in the public eye can really be draining. So much so, the organization suggests that every titleholder see a psychiatrist at least twice a month."
If body image issues and monthly psychiatrist visits are the trade-offs for a disposable crown, why continue these pageants at all? There are many ways to earn success, but destroying your health in order to fit within a judge's beauty standard is not the way to go.
About the Contributor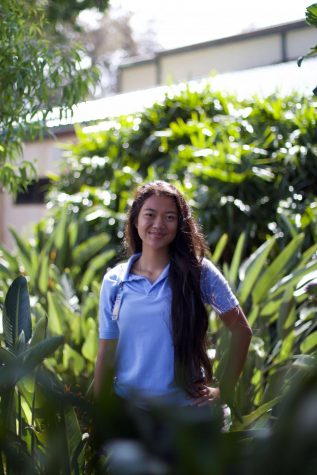 Sydnee Valdez, News Editor
Aloha! My name is Sydnee'O Valdez and I am currently the News Editor. This is my second year at Ka Mōʻi and it has both improved my writing skills as well as started my passion for journalistic writing. Over the summer I interned with UH Mānoa's student newspaper, Ka Leo, and have learned a lot about the journalism field. As an editor for KSK's newspaper, I am excited to teach those newly learned skills to this year's staff. My goal is to improve the works published in Ka Mōʻi, while shaping our staff into the role models future KS reporters will look up to. I'm excited for what this year will bring and all the achievments we as a staff can accomplish.