"Spider-Man: No Way Home" Movie Review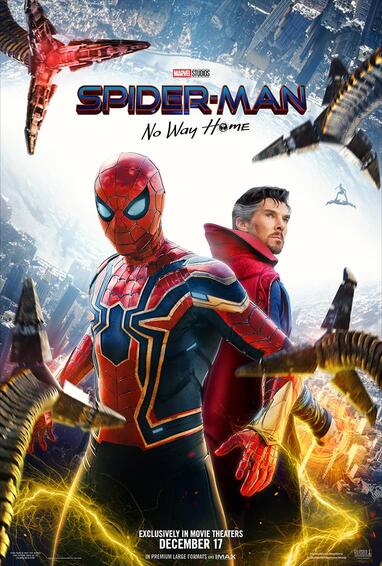 Having generated $668 million in ticket sales domestically and $867.5 million internationally, "Spider-Man: No Way Home" is the eighth-highest grossing movie in global history. These facts align with my opinion that the latest Spider-Man sequel is a must-see that is worth a 6 on a 5-star scale. Paying the $16.75 price per person – though it hurt the wallet – was worth it to experience a film riddled with rivalry, romance, revenge, and redemption. 
At the end of "Far From Home", prior to his death, Mysterio (Jake Gyllenhaal) reveals Spider-Man's true identity along with a small, fabricated, detail that Spider-Man killed Mysterio, whom the world viewed as a hero. "No Way Home" starts off with Peter Parker (Tom Holland), Michelle Jones (Zendaya), and Ned Leeds (Jacob Batalon) waiting for their college acceptance letters amidst all the controversy surrounding Peter, who is now in the limelight. However, it becomes evident that the association with Peter is hurting his friends and his own chances at college. His desire to help his friends, coupled with the desire to retract into anonymity amongst the public, drives his request to Doctor Strange (Benedict Cumberbatch): that people forget that Peter Parker is Spider-Man. But between the fickle nature of magic and the mind of a teenage boy, the spell goes haywire, introducing the conflict of the movie. 
Without having too many spoilers in this review, the audience is able to witness the marvel that is the multi-verse, as the movie continues. For the dedicated Marvel movie watchers, this movie will be a treat as it brings back heroes and villains last seen in the early 2000s. A hallmark quote from the previous Spider-Man movies makes its presence known at a certain tragic scene between Peter and his Aunt May: "With great power, comes great responsibility." This quote highlights the theme of personal accountability that is sewn through the framework of this film, as Peter's choices and indecision drive the conflict. 
Marvel has produced numerous groundbreaking films, but this one is truly innovative and guaranteed to captivate the audience's attention from the beginning to the last of the end credit scenes.
Fun Fact: Ned Leeds, Peter Parker's best friend and 'guy in the chair', is played by Jacob Batalon, an 'Oahu native and Damien graduate.