The Hunchback of Notre Dame: Positive Messages for a Play Cut Short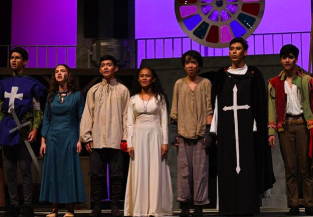 Following the success of their fall production, High School Musical, Keaka Kamehameha returned in the spring to showcase their newest play that they have worked countless hours on, The Hunchback of Notre Dame.
The play follows Quasimodo who is played by sophomore Reilly Peter Choo. The play shows Quasimodo's growth over time with the help of gypsy, Esmeralda, played by Anela Lee, in finally being able to stand up for himself against the people who teased and taunted him including his guardian, Claude Frollo. The production included great singing, dancing, and emotion from the actors involved. The play was open for audiences to see on March 6, 7, and 8, resulting in very positive comments from viewers.
Kaitlyn Anderson, an audience member said, "Hunchback was really great! Both the acting and the music were wonderful, and you could tell how hard everyone worked on it!"
With the success of the first week, the keaka students continued to prepare themselves for their second week of shows on March 13, 14, and 15 with late-night rehearsals and minor critiques to make their play even better. However, on March 12, in response to the growing concern of COVID-19, the second weekend of shows for Keaka Kamehameha was canceled. The Keaka Kamehameha group shared the news with friends and family regarding the abrupt cancellation, reminiscing on the good experiences that they had during the play and during their multitudes of rehearsals.
However, after fighting for their show to go on, Kamehameha administration decided to grant Keaka with one last show, premiering on Saturday, March 14 at 7:00 pm. Their last show will be a "non-audience" performance, with the play being live streamed on their Instagram account, @keakakamehameha. Having this last chance to perform means the world to the entire cast.
Senior Bryce Linsagan, who played Claude Frollo in the play, said, "It was really nice to discover another thing that I really enjoyed doing and I'm glad that I got to experience it with the other amazing people in the cast."