The Richest Bum Returns to Hawaii Concert Scene
Mac DeMarco, the king of indie psychedelic rock, returned to Hawaii and performed at The Republik on Jan. 22, a spicy Wednesday night. His charismatic persona and unique sound attracted groups of hipster teenagers with beat-up vans and thrifted outfits along with middle-aged men donning aloha shirts and Birkenstocks, all sharing the same goal for the night—to groove to Demarco's hypnotic tunes.
The flow of the crowd in response to his live performance of "Freaking Out the Neighborhood" and "Honey the Stars Keep on Calling My Name" captivated the audience members and transported them to another world. His lively rendition of the slow ballad, "Still Together", resulted in a formation of a mosh pit of grown men throwing themselves at each other—something that should be experienced by everyone. The small venue made it feel like Mac was singing directly to your soul. First timer, Senior Camille Slagle, recounted her experience as "Definitely a cool vibe I had never really heard before." Kaimele Kop, a student who also attended the concert, said, "His energy is no other, and hearing him live was a dreamlike experience. The way he performs with the audience is surreal and I'm so stoked he decided to have a show in Hawaii."
The classic Chamber of Reflection, My Kind of Woman, and Salad Days have made his fame. Still, tunes like Blue Boy, Robson Girl, and She's All I Really Need are hidden gems within a storm of good music that eloquently communicate Mac's style and ether. His creative documentary—which I highly recommend—, Pepperoni Playboy, encapsulates DeMarco's funky personality, musical talent, and goofy humor.
Mac Demarco has an undeniable talent for moving crowds with chords and his cigarette-crafted voice. The energy of this Canadian 29-year old artist opens a world of mellow yet complex songs that not only speak to the masses but the hearts of all of his listeners.
Concert-goer and KS senior Noa Copp explained, "One day I was just listening to Pandora and his song, Chamber of Reflection, came on and it just got me. So, I looked up the album and I listened to the whole thing. It just hit me. It was just so good, so I had to listen to the whole album."
About the Contributor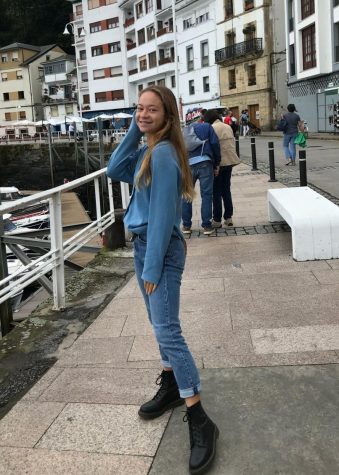 Mahealani Deenik, Reporter
EMAIL: mahealani.deenik@imua.ksbe.edu
I joined the Ka Moi team to learn about the journalism world and to be apart of a group of young Hawaiians with a powerful voice. I want to travel around the world after attending college and join the Peace Corps. I am passionate about solving social and environmental issues. I surf as much as I can and I enjoy running distance races for track and cross country. I wants to be able to look back on my life when I am older with no regrets or bitterness.