A Visit to Haleakala: House of the Sun
Shedding the spotlight from Mauna Kea, Haleakala Crater is also a remarkable landmark of Hawaii. In Hawaiian, Haleakala means "house of the sun" and the legend says that the demigod Maui lassoed the sun there to make the day last longer, slowing its progress across the sky.
Rising 10,023 feet above sea level, Haleakala places third after Mauna Kea and Mauna Loa for the highest peak in Hawaii. It is also prominent for being the largest dormant volcano in the world. Viewing a sunrise is such a beautiful moment to 'stop and stare' and reflect on the beauty of nature and Haleakala serves as a desirable location for having no obstruction of view.
Commonly topping the must-see lists of Maui sight-seeing recommendations, it is highly coveted to see the sunrise or sunset atop this Mauna. The popularity of Haleakala makes the daily 150 vehicle sunrise reservations sold out in a matter of minutes, so it is extremely difficult to score a spot. According to the Haleakala National Park Service, the requirement of a reservation during sunrise viewings is due to the overcrowding of visitors and the limited parking stalls.
We woke up at 12 am and arrived at Haleakala at 3 am, the opening time. Running on three hours of sleep, I enjoyed a veganized warm cup of oatmeal from McDonald's with a REBBL matcha latte from Safeway for my breakfast to keep me energized for hours to come.
At this hour, along the long and windy Haleakala highway, drivers need to stay cautious of the cows and leaping rabbits that loom in the darkness. Once you get to the top, it gets cold and the use of a jacket or blanket becomes essential. The lookout view at the summit is above the clouds- unlike anything that I have ever seen. The shapes in the distance that I mistakenly thought were bushes were actually clouds; that was the moment when I realized the dramatic change in elevation. When the view comes into the light, you are able to see the features of the crater clearly.
About the Writer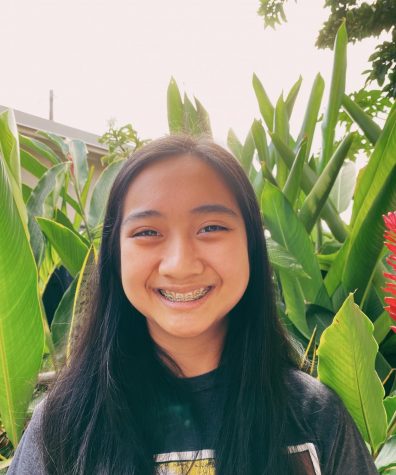 Maya Tabije, Reporter
EMAIL:maya.tabije@imua.ksbe.edu
Aloha, my name is Maya Kealohalani Tabije and I am from Honolulu. I am a senior and this is my second year on the Ka Mōʻī staff. I love all things vegan, vintage, photography, and boba-related! Next year, I plan on studying geography in college. I would love to travel the world when I'm older and become a fluent Spanish speaker. Random fact about me: I believe cabbage and cacao are the best plants to ever exist.