No Kuʻu Lāhui E Hāʻawi Pau
In wake of the Kū Kiaʻi Mauna movement, members of the Hawaiian music community came together to sing Kumu Hina Wong-Kaluʻs song, Kū Haʻaheo. 
The video was released on Sept. 2nd, and has since gained over 151,000 views on YouTube, the video including the contributions of multiple Kamehameha Schools staff members. Kumu Zachary Lum was the main music producer of the music video, and he explained that he is working with fellow musicians Chad Takatsugi and Shawn Pimento to create an album called "Kūhaʻo Maunakea" with 18 tracks to support the Kū Kiaʻi Mauna movement.
Lum explained that the making of the music video and the album is "one of many ways where people are looking for an opportunity to express how they are feeling in those times; it allows them to have that venue for expression, and each song on the album is that, and on a larger scale, thatʻs what music helps us do; understand how we feel." According to Lum, people can get what they want out of the video, but he hopes that it will allow people to have an opportunity to express how they feel about the situation. 
Lum also said that the music video and the album connect with the idea of aloha, "the things that make us special, Hawaiians, is our ability to empathize, and English fails to give us a word, but in Hawaiian it is aloha, so the feeling of aloha will be the catalyst for action, and we see it on the Mauna, working on the Mauna; thatʻs why this is huge… we need to at least consider that the feeling part of aloha is the thing that connects us to everything else: ʻāina, people, environment. When we draw upon these things, decisions become clear."
About the Contributor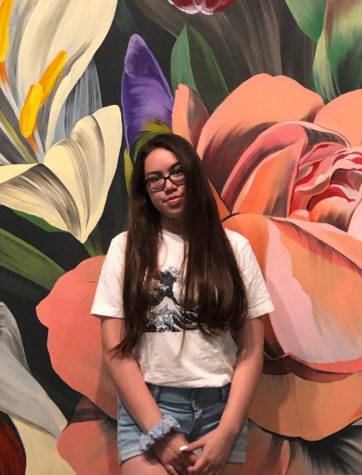 Kiersty McKee, Reporter
EMAIL: kiersty.mckee@imua.ksbe.edu
Aloha! My name is Kiersty McKee and I am from Papakōlea, Oʻahu. I am currently a senior, and I began my journey at Kamehameha in Kindergarten. I am a member of the Concert Glee Club, the senior class board, as well as a few clubs on campus. This is my first year writing for Ka Mo'i, and I joined to determine my interests going into college to possibly decide on a major and career path.