A Recipe Just In Time for the Holidays
In the mood for a holiday treat? Or just want something to snack on while binging Fall movies on Netflix? Well this recipe is for you. The perfect holiday treat, these Pumpkin spiced Chocolate chip cookies are not only fun to make, but delicious to eat
Chocolate Chip Pumpkin Spiced Cookies
Ingredients:
2 cups all-purpose flour
2 teaspoon baking soda
1 cup pure pumpkin puree
1 teaspoon ground cinnamon
½ teaspoon ground nutmeg
½ teaspoon ground ginger
¼ ground cloves
1 teaspoon vanilla extract
1 teaspoon salt
½ cup butter, softened
1 cup brown sugar
1 cup granulated sugar
2 large eggs
2 cups chocolate chips
Directions
Heat oven to 350 degrees
Spray cookie sheets with nonstick spray
Using an electric mixer, beat the butter until it's smooth. Adding in a little at a time, beat in the brown and granulated sugar in with the butter then, beat in the eggs one at a time. Mix in the vanilla and pumpkin puree.
In a large bowl whisk together the flour, baking soda, salt, cinnamon, nutmeg, clove, and ginger.
Slowly beat in the mixture with the batter you made before, only adding a quarter of the mixture at a time. Then mix in the chocolate
Scoop the cookie dough on the cookie sheets and cook for 15 to 20 minutes, or until the edges are browned
Remove from the oven and let cool for 2 minutes.
About the Writer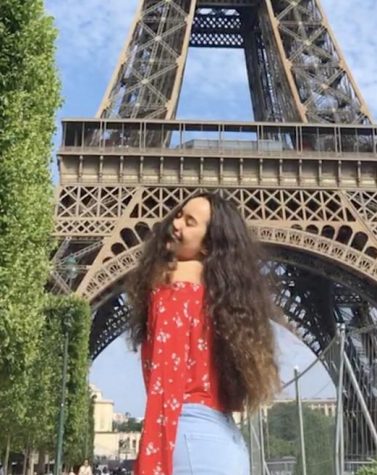 Taylor Cozloff, Chief Editor
EMAIL: taylor.cozloff@imua.ksbe.edu
My name is Taylor Cozloff, I'm a junior, and this is my second year on Ka Mōʻī. I am the Editor in Chief for this year's staff, and I am very excited to be leading the diverse group of talented individuals on staff for the 2019-20 year of Ka Mōʻī. A little bit about me, I love to write, read, take film photography, paddle, and I spend time with my friends. Though writing is my favorite passion and my first love, traveling will always be my hobby soulmate. This previous summer I had the privilege of living my best life in Japan and Bali, and it was one of the best experiences of my life. I have also traveled through seven countries in Europe with my World History class and hiked to Havasupai falls in the Grand Canyon. My hope for my future is to attend either NYU or USC and become a journalist. If you ever have a story you want to tell or think should be covered, or just want to ask questions about Ka Mōʻī, feel free to email me at any time.