Former Teacher, Tennis Coach, Passes Away During Pandemic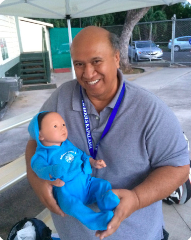 Recently retired science teacher Jacob Lono died on Dec. 22, 2021. In addition to teaching in the high school science department for over three decades, Lono served as the Boys' varsity tennis coach for nearly 30 years as well.  A KS graduate, Lono thrived in working with struggling students; his gregarious and nurturing demeanor made science fun for haumana.  Students were always seen congregating in his classroom during lunch and free periods.  His open-door policy truly exemplified the Aloha spirit.  A friend and mentor to many, Lono's legacy of kindness will never be forgotten.  
     Lono, who also played tennis while at KS, was able to coach Marcel Chan and Roman Kop to a state doubles title in 2011 and Chan to a singles title in 2012, the first boys' state tennis titles for KS in over 60 years.