An Inside look on Standout Student Athlete Tara DeSa
Tara DeSa, a driven student and outstanding athlete with a down to earth persona, is set to play Division 1 Volleyball at the University of California, Berkeley next fall. The Kamehameha Senior led the warriors to secure a State Championship in October against Punahou.
DeSa is excited to attend UC Berkeley, planning on majoring in Bioengineering because of her passion for biology and interest in learning the operations and mechanisms of the devices in that field. With her favorite book, All the Bright Places by Jennifer Niven, DeSa enjoys reading, going to the beach, and takes pleasure in eating during her free time.
DeSa describes her experience in the Kamehameha Volleyball curriculum as "life-changing." Adding on that it "instills important values that many people wouldn't get from other sports." Tara began playing volleyball at ten years old and joined the Mililani Volleyball Club at twelve. DeSa says, "I come from a baseball family, so I was given the option of baseball or volleyball as a sport. I chose volleyball and stuck with it." She now plays for Spike & Serve and has been a part of the KS Varsity Volleyball team for her whole high school career, serving as a valuable player to the team's victory this year.
If you've ever watched her play in a game, she plays without fear—her extreme dives for the ball show her dedication and commitment. DeSa says in response to the risks that volleyball poses, "I like the bruises. I like battle scars. It's an adrenaline rush."
About the Writer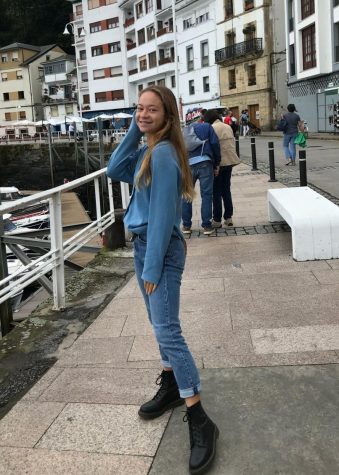 Mahealani Deenik, Reporter
EMAIL: mahealani.deenik@imua.ksbe.edu
I joined the Ka Moi team to learn about the journalism world and to be apart of a group of young Hawaiians with a powerful voice. I want to travel around the world after attending college and join the Peace Corps. I am passionate about solving social and environmental issues. I surf as much as I can and I enjoy running distance races for track and cross country. I wants to be able to look back on my life when I am older with no regrets or bitterness.