Kanye West's Media Tour Provokes Significant Backlash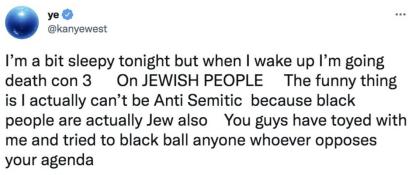 Kanye West, a prominent musician and rapper, has recently caused immense public upset with his political campaign, which some have claimed possesses strong anti-semitic and fascist connotations.
Though West has openly shared his conservative political beliefs before, his recent actions and conversations have sparked much public discourse. Starting on Oct. 3, 2022, West held a private show during Paris Fashion Week, where he was photographed in a shirt bearing the words "White Lives Matter," a slogan criticized by many as a fascist, racist response to the Black Lives Matter movement.
Later, on Oct. 7, 2022, after taking to Instagram to accuse record producer Sean "Diddy" Combs of being influenced by Jewish people, West took to Twitter the following day to write, "I'm a bit sleepy tonight but when I wake up I'm going death con 3 on JEWISH PEOPLE." Though West was met with a Twitter ban after such claims, Elon Musk's recent platform takeover resulted in West's unban from the site. Since then, new anti-semitic comments have emerged.
Over the past month, West has made many appearances on podcasts and talk shows. At the end of his advocacy tour, West appeared on Info Wars, hosted by Alex Jones, where he praised Nazis and Adolf Hitler. West said, "I love Jewish people, but I also love Nazis," and "I like Hitler." Following these claims, on Dec. 2, 2022, he posted an altered image of the Star of David, which contained a swastika in the middle of the symbol.
West's recent behavior and political affiliations have cost him numerous brand deals and business partnerships such as Adidas, Gap, and Balenciaga. He has been continually met with an outcry of public backlash, yet continues to advocate for his beliefs.
The Anti-Defamation League called out West: "There is no excuse for his propagating of white supremacist slogans and classic antisemitism about Jewish power, especially with the platform he has."