Senior Smiles Through Battle with Cancer
Determined to graduate from KSK, senior Pomai Tollefsen fought her way through high school despite being diagnosed with Hodgkin and Non-Hodgkin Lymphoma.
Just two days after Thanksgiving of her sophomore year, Tollefsen had surgery on her left leg to remove a tumor that was deemed cancerous. Lymphoma is a type of cancer that starts in lymphocytes, which is a part of the body's immune system. The combination of Hodgkin and Non-Hodgkin Lymphoma proved to be dangerous and gave Tollefsen only two weeks to process her diagnoses before undergoing chemotherapy.
"I think I was in a place of disbelief. I was really distanced from it and the feeling never really set in until after my first round of chemotherapy when I realized 'oh, this is actually happening,'" said Tollefsen.
Tollefsen's mom, Lilia, said, "She was calm and determined to get better. I was amazed by her presence and her ability to stay calm on the outside."
Before completing three rounds of chemotherapy in the span of four months, Tollefsen had to face the people she loved the most. Being the eldest of six children, she said, "Explaining it to my siblings and trying to simplify it so that they could understand was difficult because it was such an abstract concept."
Telling her friends, although heart-wrenching, was relatively easier to explain.
"I just told [my friends] and tried not to make it a big deal because I don't like other people being worried, so I just played it down," she said.
Senior Sabrina Wong, one of Tollefsen's close friends said, "Pomai is honestly so amazing. She's so kind, caring, humble, and selfless. She never focused on herself, and she didn't let her circumstances stop her from trying to find the good in life."
For Tollefsen, not letting her circumstances cripple her meant completing her goal since being accepting to KS in the seventh grade: crossing the graduation stage and receiving her high school diploma. Although given the option to take off the rest of the year, her mind was set on living out an ordinary high school career.
"Early on I realized that this situation was out of my control and I could only control my side of things, which was school and my relationships with friends. I did as much as I could to keep that side normal just to give me some sort of sanity during that craziness," she said.
Although intent on separating her school-life from her weekend check-ups, Tollefsen admitted that there were times when the symptoms of chemotherapy interfered. Among the symptoms she experienced were tiredness, fatigue, and the inability to learn as quickly as she did prior to her treatments.
She said, "Being here at school and not being able to mentally process as quickly as everyone else was frustrating for me, especially not being able to express that frustration to anyone else because I didn't want to feel like a burden."
However, these set-backs helped her to step out of her comfort zone and reach out to others for help.
Tollefsen said, "It was a really humbling experience because I don't like asking for help, but I needed to learn how to go in to see my teachers and ask them to explain the lesson again."
Lionel Barona, Tollefsen's junior English teacher said, "She was very diligent in seeking that extra help. I used to meet with her very regularly and once she learned it, she got it down."
Another symptom she underwent was the loss of her hair. Most would be devastated, but Tollefsen often joked about it and referred to it as more of a nuisance rather than a traumatizing experience.
Despite her joking, Tollefsen took into consideration the possibility that others may have been uncomfortable and confessed to have been a little self-conscious and opted for beanies for the first two weeks after shaving her head.
"You don't know how to react in that situation because it's so sensitive, and I didn't want to put people in an uncomfortable situation," she said and then added with a laugh, "but the beanies got too hot, so I eventually stopped wearing them."
Commenting on her friend's lighthearted spirit during this time, senior Roxy Medeiros said, "I learned that she was very positive of her situation and even though it was tough and there were down sides, Pomai would always be joking around."
When asked about how she persevered during these trials, Tollefsen said, "People often respond to cancer out of pity or despair, and having my family there saying, 'you're going to learn from this and we're going to come together as a family,' really changed my perspective on cancer and the cancer community."
Her mom agreed with this statement, saying, "The only way to make it through these types of situations is by allowing people to help and knowing that at some point you can turn around and give back to others."
Tollefsen no longer has Chemotherapy treatments and instead attends a couple of check-ups a year. Staying true to her selflessness, Tollefsen said, "If you're in a similar situation or even just a rough patch in your life, realizing what's in and out of your control and accepting that and approaching it with optimism will definitely help your experience and attitude."
About the Writer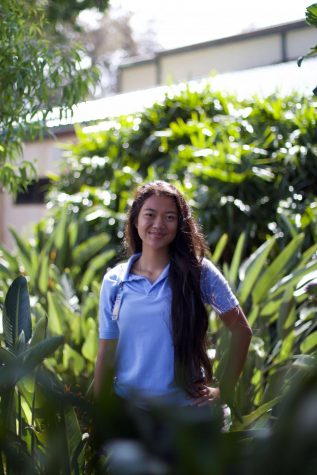 Sydnee Valdez, News Editor
Aloha! My name is Sydnee'O Valdez and I am currently the News Editor. This is my second year at Ka Mōʻi and it has both improved my writing skills as well as started my passion for journalistic writing. Over the summer I interned with UH Mānoa's student newspaper, Ka Leo, and have learned a lot about the journalism field. As an editor for KSK's newspaper, I am excited to teach those newly learned skills to this year's staff. My goal is to improve the works published in Ka Mōʻi, while shaping our staff into the role models future KS reporters will look up to. I'm excited for what this year will bring and all the achievments we as a staff can accomplish.