Class of 2018 Hosts Senior Lūʻau Fundraiser
On Saturday, October 21, students from the Class of 2018 gathered in Kekūhaupiʻo Gym with their families for the annual Senior Lūʻau. This year's theme was ʻAʻohe Makani Nāna E Kulaʻi, which translates to No Gust of Wind Can Push Me Over, and was taken from the class' ʻoli.
The lūʻau was planned by the senior class board, Class Advisor Rachelle Saffery, and class parents.
Senior Faith Blalock, class board member and co-chair of the event, said, "I think Senior Lū'au came out better than I expected. This being my first event as a chairperson, planning it wasn't a breeze, but my fellow board members and class advisor helped me to make it a successful evening."
The guests enjoyed special performances from KS math teacher Denny Ono, The Waimanālo Sunset Band, and several student groups, including Mamao, ʻŌlauniu, and Kamehameha Dance Company.
The money raised at Senior Lūʻau will be used to fund Senior Picnic, Senior Prom, and Project Grad.
Senior board member Shaylynne Matayoshi, who also co-chaired Senior Lūʻau, said, "I felt like Senior Lūʻau was a huge success–not only because of the money we were able to raise but also because of all the memories that were made that night."
Pictures from Senior Lūʻau can be found at
About the Writer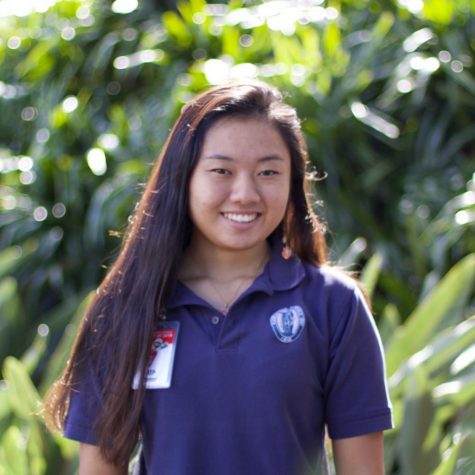 Aya Chang, Staff Reporter
My name is Aya Chang. After three years of high school, I am delighted to finally be a part of the Ka Mōʻī staff. When I'm not writing, I like to spend time with my friends.