Giving Back to Our Princess: The 92nd Ho'olaule'a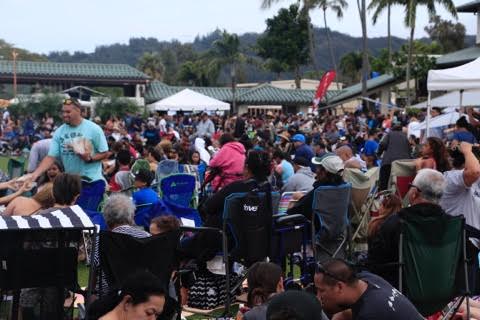 Thousands of people wait in anticipation for the event of the year, the annual Ho'olaule'a. Crowds and lines are hectic but what's on the inside makes it all worth it; the food, the rides, and the entertainment. For one day every year, students give back to Kamehameha Schools.
The 92nd annual Ho'olaule'a has been an event that students look forward to all year. Other than students giving back to the school, students come to Ho'olaule'a to have fun with their friends. Ho'olaule'a is meant to be an fundraiser in which people from all around are able to enjoy.
Although the day of Ho'olaule'a is filled with joy and laughter, much preparation is needed for the event. Students are highly encouraged to donate goods such as flour, shoyu, and rice. It's a small bit of gratitude that they can show to ensure that we are giving back to the school and not taking away.
During the school year some students tend to forget that giving back to our school with Ho'olaule'a is just one little thing we can do to help out. They forget the importance of it all.
On the comment of the importance of Ho'olaule'a, 11th grader, Quentin Choy said, "It's an event in which parents and students are able to give back for all they have received."
In many aspects, our school gives so much to us and most of the time we take what we want without appreciating what they do for us, that needs to change. Volunteering for Ho'olaule'a has never been mandatory, so many students tend not to volunteer. Some students hope that volunteering will become mandatory because giving back to our school is one of the most important things to them.
This year's theme for Ho'olaule'a happened to be aloha kekahi i kekahi, which is to love one another. This is able to represent what we need to do which is to love and appreciate our school for all they've done because they love us unconditionally.
12th grader, Mia Leon Guerrero, hoping for a possible change said, "I feel like they should announce that Ho'olaule'a is mandatory because it would ensure the most effort and appreciation in giving back to our school."
Students take what our school does for granted and the only way we can all give back to our school is provide them with a sense of being and representing them well through Ho'olaule'a. Although Ho'olaule'a is a fun event that students can enjoy, they can also have the capability to volunteer and help out. It's the least we can do for all we are given. All we need to remember is that what is given can always be taken away, we must appreciate what we have before it's gone. Ho'olaule'a isn't the only way we can give back to our school, but it's a start.