Class of 2017 Finishes at Top
Juniors take home four awards at 96th Annual Song Contest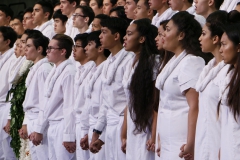 Kamoi Staff, Photo Courtesy of Michael Young
March 19, 2016
The Class of 2017 was the big winner at last night's 96th annual Kamehameha Schools Song Contest at the Neil Blaisdell Center. The junior class walked away with four awards.
In addition to the Men's and Co-ed performance awards, the juniors received honors for the Richard Lyman, Jr. 'Ōlelo Makuahine Award (Outstanding Use of the Hawaiian language) and the Helen Desha Beamer Award (Outstanding Musical Performance).
However, unlike recent years, it was not a total sweep for the top class of the night. The senior girls took home the New England Mothers' Cup for the top girls' performance of the night. Senior Girls' Director Mikayla Ah Sam received the award for Best Director, along with sophomore Boys' Director 'Elia Akaka. Both earned a tie score by the judges who were led by Dr. Holoua Stender, former KS Elementary School Principal and current Executive Vice President of Education.
This year's theme of the song contest was ʻO Hawaiʻi Kuʻu Kulāiwi, Songs of My Beloved Homeland.