Missing ʻAkahi? Here Are Some ʻAkahi-Inspired Lunch Ideas
Luau Stew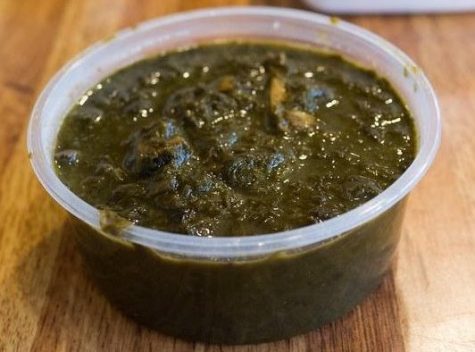 From everyone's favorite special lunch: Hawaiian food days. Fresh luau leaves or frozen, can be found at local grocery stores. Add coconut milk for a thicker, sweeter taste. Toppings like squid, chicken, beef, or pork can be added, or it can be left plain. It is best enjoyed with poi or rice!
Squid luau recipe by Chef Keoni: https://www.foodland.com/recipe/squid-luau
Corn Chowder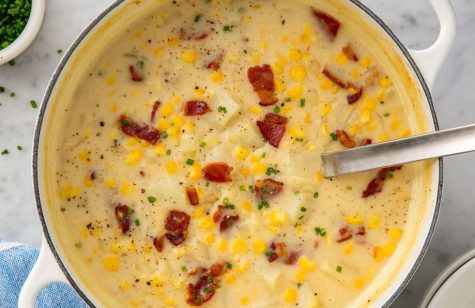 This popular soup can be enjoyed on a rainy day or whenever! There are different variations, but obviously, corn and potatoes are necessities in this dish. The key to the thickness of corn chowder is to use cornstarch or flour. For the liquid base, milk, coconut milk, or a chicken/vegetable broth can be used. It is served best on its own or with bread.
Corn chowder recipe by Cooking Classy: https://www.cookingclassy.com/summer-corn-chowder
Veggie Burgers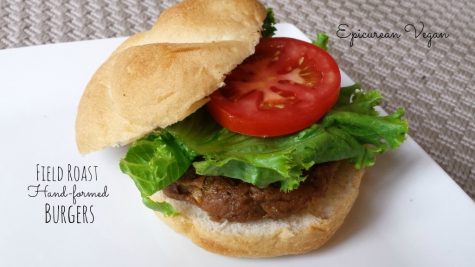 In the vegetarian section, Maui Taro Burgers have been the favorite type of veggie burgers on ʻAkahi's menu. There are so many different veggie burger flavors on the market! Store-bought veggie burgers can be microwaved, heated up on the stovetop, or grilled. Customize your burger with toppings, fries, or a salad.
Don't know where to start? Here are some burger suggestions by Eat This, Not That! https://www.eatthis.com/veggie-burgers/
(Chicken) Long Rice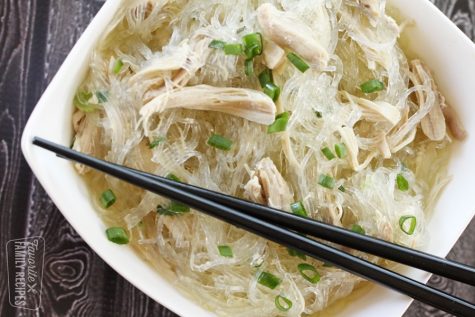 This is another local favorite and it is adapted from Chinese cuisine. It is made with vermicelli noodles and the essential green onion garnish which adds color. Cut pieces of chicken to go in it, or tofu for a vegetarian-style meal.
Chicken long rice recipe by Savvy Nana: http://www.savvynana.com/recipe/chicken-long-rice-hawaiian-chicken-noodle-soup/
Spanish Rice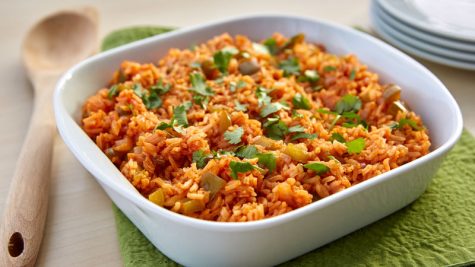 This rice goes great with tacos or burritos and it's a nice change from plain rice. It also can be a side dish or main dish by adding a protein like ground beef or black beans. Use tomato sauce to add the red-orange color to the rice or add salsa for a spicier taste.
Recipe by Betty Crocker Kitchens: https://www.bettycrocker.com/recipes/basic-spanish-rice/0d480deb-480d-4a8a-a999-91c5eb4bd7b8
Caesar Salad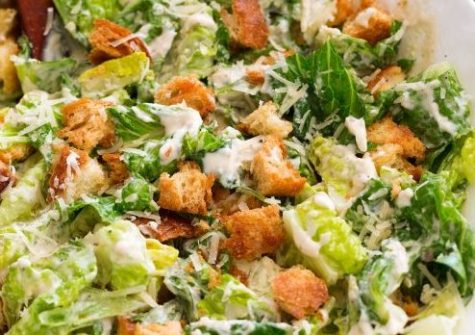 Isn't salad much better with toppings? The romaine lettuce should be cut into bite-size pieces. The croutons from this salad add a nice crunch to go with the greens. For croutons, simply chop up small pieces of bread, drizzle some olive oil, and lightly add salt, garlic powder, and dried herbs, then toss it in the oven. Lastly, add some parmesan cheese and caesar dressing to complete the recipe.
Caesar salad recipe by Spend with Pennies: https://www.spendwithpennies.com/caesar-salad/