Netflix Ups Their Game With September Premiers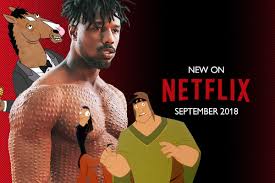 For the month of September, Netflix has provided users with a large variety of movies and shows to choose, with more promised in the near future.
Recently added to Netflix, the classic 1985 movie, The Breakfast Club, has made its premier on the movie streaming website. For Marvel fans that would not mind re-watching movies The Black Panther is available now to watch on Netflix. Users may also be interested in King Kong Nacho Libre, a comedy that features cook endeavoring to become a Lucho Libre wrester, and Bruce Almighty, a comedy starring Morgan Freeman and Jim Carrey. Sierra Burgess Is a Loser, which co-stars Noah Centineo, who also plays Peter Kavinsky in To all the Boys Iʻve Loved Before. Sierra Burges Is a Loser premiered on September 7th. Stranger Things', Shannon Purser co-stars with Noah Centineo.
Other upcoming releases: Blacklist season 5 (Sep. 12), American Horror Story: Cult (Sep. 18), and The Walking Dead season 8 (Sep. 23).